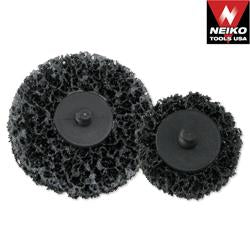 Silicon Carbide Rolok Stripping Disc 2"
11102A
Roll on and lock
Material: black Silicon Carbide
Thickness: 13mm
PA buckle
Aggressively removes paint and rust from seams, door jambs, drip moldings, pinch, welds and other hard to reach areas.
3 dimensional abrasive web conforms to work area.
Safer than wire bristle tools
Durable web design lasts longer and will not rust.
Use with roloc holder.