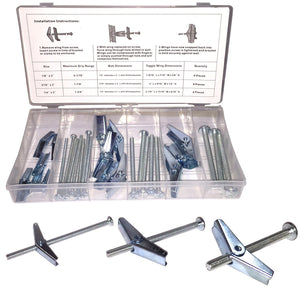 Wing Toggle Bolt Assortment 18Pc
TAIB0021
Features a snap open action suitable for all hollow wall installations.
A strong, dependable fastener for ceilings walls or wherever there is an inaccessible attachment needed.
Machined bolts with a combination of slotted and Phillips head drives
Zinc plated steel construction for durability and to resist rust and corrosion.
Collapsible spring loaded wing anchors.
Installation instructions included within box lid.
Includes:
8 Pc - 1/8" x 3" (Size), 2-1/16" (Max Grip Range), 1/8" x 3" L w/ 32 thread pitch (Bolt Dimensions), 1-9/16" L x 7/16" W x 3/8" H (Toggle Wing Dimensions)
6 Pc - 3/16" x 3" (Size), 1-7/8" (Max Grip Range), 3/16" x 3" L w/ 24 thread pitch (Bolt Dimensions), 2" L x 9/16" W x 1/2" H (Toggle Wing Dimensions
4 Pc - 1/4" x 3" (Size), 1-3/4" (Max Grip Range), 1/4" x 3" L w/ 20 thread pitch (Bolt Dimensions), 2-1/8" L x 11/16" W x 9/16" H (Toggle Wing Dimensions)