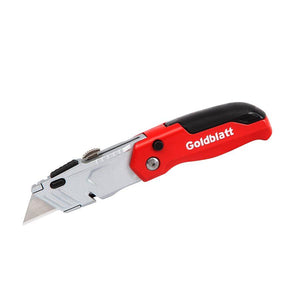 Folding Retractable Utility Knife
G08200
Features :
Easy Fold design

Quick-load blade changing system

2 blade storage compartment incorporated into handle • Includes 2 blades
This new unique utility knife features a multi-use retractable and auto-locking blade. It is designed to quickly and effortlessly fold into the handle saving the user space and increasing safety. It incorporates Goldblatt's quick-change system that greatly simplifies the chore of replacing worn out blades and allows you to store two spare blades in a separate, easily accessible compartment located in the handle. This helps ensure the user never runs out of blades at an inconvenient time.