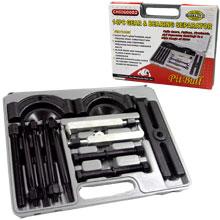 Gear & Bearing Separator 14Pc
CHIIG0002
Black Oxide & Chrome Plated Finish Resists Corrosion
Applies Even Pulling Force to Prevent Damage to Gears or Bearings
Removes gears, pulleys, and steering wheels. Applies even pressure, preventing damage.
Hardened and tempered, precision-machined steel bolts.
Drop forged, heat treated steel attachments.
Includes
Compartmentalized molded plastic carrying case.
2pc bearing separator, size: 9/32"-3".
2pc bolts for bearing separator with nuts and washers: 5-1/2"-12 thread.
2pc 6" pawls, 3/8"-16 thread with nuts.
4pc 6-3/4" connecting bolts 3/8"-16 tread x 5/16"-18 thread with nuts.
1pc 5-1/2" push rod 9/16"-10 thread.
1pc bracket. 1pc cone head for push rod.
1pc flat head for push rod.