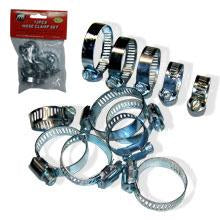 Hose Clamp Set 12Pcs
TAIC0381
Features:
Use for securing hoses in low or moderate pressure application around the home, garage or workshop
Screw thread, worm gear type clamps are easy to install and reusable
Zinc plated to resist rust and corrosion
Contents:
2-pc. 7/16" to 5/8"
4-pc. 1/2" to 1-1/16"
4-pc. 5/8" to 1-1/4"
2-pc. 3/4" to 1-1/2"