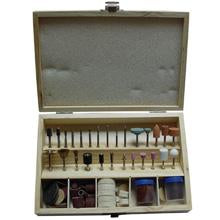 Mini Dremel Tool Kit 100Pcs
CHIFRS10
Hobby grinder accessory set has everything you need to cut, grind, sand, sharpen, polish, etc. with your rotary hobby grinder.
All accessories are 1/8', and will fit most all hobby grinder/ rotary tools.
Set includes steel bits for engraving, be burring etc., grinding stones, wire wheels, nylon bristle wheels, sanding drums, cutoff wheels, polishing wheels and cones, extra cutoff disks and sanding drum replacements, and 3 different arbors to fit all of the different accessories.
Comes complete with wooden storage/ carry case with spots for everything to be kept neatly.